Rudolph Ganz, Composer and Conductor
Rudolph Ganz, Composer and Conductor
Musical Pedagogue and Promoter of Modern European Music in America
Rudolph Ganz was born in Zurich in 1877. After his musical education in Zurich, Lausanne, Strasbourg, and Berlin, he received, at age twenty-three, a position in the piano department of the Chicago Musical College (now: Chicago College of Performing Arts, Roosevelt University), one of America's best schools of music. In 1903 he made his orchestra debut in the United States with the Chicago Orchestra under conductor Theodore Thomas.
Besides his career as a concert pianist in Europe and the United States, Ganz was the director of the St. Louis Symphony Orchestra between 1921 and 1927. He
transformed this ensemble into one of the premier orchestras in the United States. In 1928, Ganz returned to the Chicago Musical College and served as its president between 1934 and 1954. As a pianist as well as a conductor and later as a teacher, he strongly promoted contemporary European and American music.
Sometimes against the will of the social elite he performed works of composers like Pierre Boulez, Arthur Honegger, and John Cage.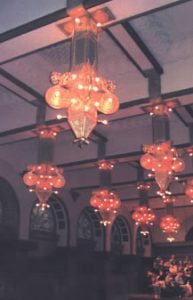 As he dryly observed: The living have as much right to be heard as the dead. In St. Louis, Missouri, Ganz began to give children's concerts. Their goal was to help children understand classical music and at the same time to build a future concert audience. By his humorous nature he was able to awaken the interest of his young audiences and to introduce them to the world of music. He wrote Animal Pictures, one of his most popular pieces, specifically for children. Out of gratitude for his dedication to contemporary music, composers such as Ravel, Tcherepnin, and Schönberg dedicated works to Ganz. In 1923 he was awarded the French Legion of Honor medal for introducing Maurice Ravel and Claude Debussy to American audiences. In honor of Rudolph Ganz, the famous Banquet Hall in the Auditorium Building was renamed Rudolph Ganz Recital Hall in 1957.
Musik/Music:
Salvatore, Ramon. Chicago concertos:
Piano concertos by Rudolph Ganz and John La Montaine. Compact disc.
Chicago 1996. (in Chicago Public Library, CPL)
Ganz, Rudolph. Concerto in E flat major:
For piano and orchestra:
Sheet music. New York 1945. (CPL)
Interview:
Interview with Studs Terkel. Broadcast in 1964
by WFMT Chicago. (Chicago Historical
Society)
Literatur/Literature:
Collester, Jeanne Colette. Rudolph Ganz: A
Musical Pioneer. Metuchen, New Jersey, 1995.
(CPL)
Ganz, Rudolph. Rudolph Ganz evaluates modern
piano music: A guide for amateur and student,
for use as a supplement to the literature
of the piano by Hutcheson-Ganz. Evanston
1968. (CPL)